Can my students use social logins or their school's Google account?
Learners can use their social accounts (Google, Facebook, Twitter) to access iDEA.
To do this, a user must FIRST sign up to iDEA with a username (nickname) and password. Once registered, the learner should navigate to the 'EDIT PROFILE' section (using the dropdown in the top right hand corner of iDEA).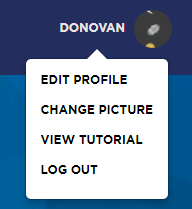 Then click on 'Manage Social Sign-in' to click on the relevant social account(s) they want to link up to their iDEA account. Please note, if a social account is linked, the user does NOT need to remember their iDEA password so this is especially useful for younger learners and learners with special educational needs.